Photos
As you add content you might want to put a photo in. You can do this by simply clicking to insert, choosing 'Photo' and then selecting a file from your computer. PagePlay does the rest uploading, storing, resizing and optimising your image for the web.
After a few seconds your photo will just appear on your page where you clicked to insert.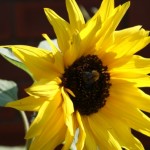 You can add a photo inside your paragraphs so that they are alongside the text. This paragraph is an example of the method; you can see the sunflower to the right hand side.
With PagePlay, you can either add a photo straight into your content at full size, or you can add a Gallery which shows a 'chocolate box' of photos.
Adding a gallery allows you to add multiple thumbnails of photos which are then presented as a 'chocolate box'. You can roll over the photos to see the title. When you click on a thumbnail, you get a full-size version of the photo with an extended title and description. You can have as many galleries as you like on any page of your site.
Galleries are perfect for showing off several photos relevant to one subject - for example, an event. Whether you choose to have a set page for your gallery or just include it along with content on the subject - the choice is yours.
To use Gallery you need to add it to your subscription as a bolt-on.
A photobanner is a group of 'stories', each of which can have a title, photo, description and link. The photobanner shows one story at a time for as long as you like, before fading gracefully to show the next story in the same position. Your visitors can advance to the next story by clicking a link if you like.
The options you need and the way the banner looks are all things we will agree with you if you choose to add it to your site.
Just like everything in PagePlay, editing your Photobanner is easy. When you a logged in you'll be able to click on the edit button in order to see the different editing options you have.
You'll see a list of the stories you currently have grouped into "Active" and "Inactive" allowing you to put stories together in draft before you make them live on your site.
Adding and cropping photos uses all of the same techniques you're already familiar with.
Again, as with everything else in PagePlay, there's no such thing as a silly question so give us a shout if you need any help at all.
PagePlay does a lot of work on your photos, so you don't have to
The automated processes which take place when you upload a photo are invisible, but really important. We take the image, store its original and then create new versions for the different uses they will have on your site. If your site design ever changes, PagePlay can automatically create new versions of the photos without you needing to give it a second thought.
What's the point of all that?
Making sure photos load quickly and look good for your visitors.

To make adding photos much easier and quicker for you.

So your site complies with accessibility criteria and is search engine friendly.