A preview of our new content management system
For the past eighteen months, PagePlay has been developing a taxonomy-driven and fully hosted content management system.
PagePlay Cluster is designed for an online world which categorises content semantically and gives visitors an increased ability to participate and co-create. With content and connections at its heart, PagePlay Cluster is creating the CMS for the semantic web.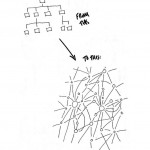 With PagePlay Cluster the focus is on items of content rather than pages of content. The items you add and how they relate to each other is more important than how you choose to lay out a page. It's the job of the website to decide on the best place to put things. It has many advantages including ongoing support & updates and excellent semantic labelling of content.
PagePlay Cluster is a service you subscribe to rather than a bespoke piece of software which you then own outright.
We're currently using PagePlay Cluster to deliver sites for art galleries, festivals and a children's literacy charity.